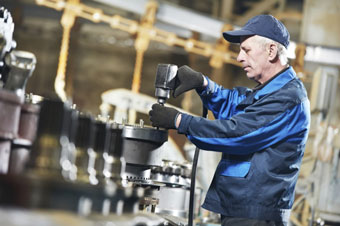 Autonomous Maintenance (AM) is a singular part of Total Production Maintenance (TPM). TPM principals are based around improving equipment effectiveness, autonomous maintenance, planned maintenance, training to improve operation and maintenance skills, and better work place design.
AM prepares operators to perform some basic maintenance activities such as inspections, cleaning, and small adjustments. However, operators are not on an island by themselves.  They are part of a team of operators, engineers, technicians, and managers who work together for the good of the machine. AM is a process of helping operators gain knowledge of their machines and developing their ability to recognize abnormal operating conditions. Operators are taught to perform routine checks and minor maintenance tasks while freeing up maintenance personnel for predictive and preventative maintenance.
AM is comprised of seven steps, which is a road map to a safer and more efficient work place for all. Operators learn the maintenance skills they need through this seven step program.  AM refers to activities designed to involve operators in maintaining their own equipment. Activities of AM are performed in small groups. These groups set the standards, compose the procedures, and perform the maintenance of keeping their equipment running, clean, and performing to standard.
Stay tuned over the next 7 weeks for more detailed coverage of our 8-part series covering, "The 7 Steps of Autonomous Maintenance." Dive deeper into the world of AM with our Free Module of the Month and more, only at odesie®!
To learn more about how Technology Transfer Services can put your organization on a path to world class maintenance, visit us at www.techtransfer.com!