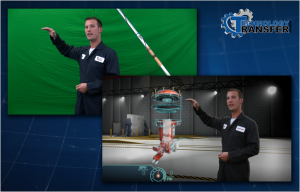 Effective skill and knowledge transfer begins with an analysis of the tasks performed by the target audience and then ultimately translating them into learning objectives to develop an effective learning strategy.
Our competitors talk about learning strategies that include advanced learning technologies – we deliver it. Our award-winning, innovative learning strategies include engaging and effective use of technology from 3-D simulations to avatar-based virtual worlds. Moreover, we typically blend application of learning technology with traditional instructional delivery strategies to create optimal skill and knowledge transfer to achieve extraordinary business results.
As an IACET Authorized Provider that follows a rigorous instructional design methodology verified to meet the IACET/ANSI standard, TTS excels at the creation and deployment of technology based learning solutions.
The learning strategy is based on the learning objectives. Each learning objective is met by the development of a learning object. The learning strategy for a single learning objective can vary from those related learning objects that comprise a course or program. When the delivery strategy differs between learning objects within a single course, the course is said to be a blended or mixed media course or program.
A learning strategy is defined by the combination of four aspects:
Learning Environment
Instructional Strategy
Modality
Media
Learning Environment
The Learning Environment is the time and place of learning to achieve the learning objective(s). A learning environment may be:
Classroom – A classroom environment is one where one or more learners
Work (On-the-job) – A work environment is the actual place of physical performance of the job or role of the learner.
Virtual — A virtual environment is any environment in which the learner is fully immersed in an alternate or modeled environment, whether physical or computer generated. The defining characteristic of virtual worlds is immersion through the user interactions in the virtual world by means of an avatar and is generally persistent with opportunity to interact with other users through their respective avatars.
"Anywhere " – An "anywhere" environment refers to an environment not limited by a specific physical or virtual location, but may be constrained by other environmental factors such as computer requirements, Internet access, mobile devices, or printed materials.
Instructional Strategy
The Instructional Strategy is the method of instruction to achieve the learning objective(s). Valid instructional strategies include:
Lecture
Guided Discussion
Self-Guided
Case Study
Role Play
Brainstorming
Demonstration
Hands-on
Imagery
Illustration Modeling
Simulation
Drill & Practice
Unstructured Interaction
Modality
Modality describes the characteristic of real time interaction between the learner and others to achieve the learning objective(s). There are two modalities:
Synchronous – The learner and one or more other people are required to interact at the same time and place (Learning Environment) to achieve the learning objective(s).
Asynchronous – The learner can achieve the learning objective(s) without interaction with another person in real time.
Media
Media is the engine to deliver the content to achieve the learning objective(s).
Media includes:
Presentation
Print Material
Online Content
Structured OJT
Video
Webinar
Collaboration Tool
Electronic Performance Support System (EPSS)
Computer Based Training (CBT)
Web- Based Training (WBT)
Mobile Learning
Simulation
Games
Virtual Worlds