Highly interactive, custom eLearning and training solutions.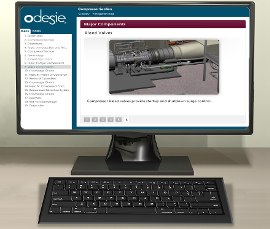 "We are so grateful to have been connected with TTS. I can't imagine business life without them now. We will be a TTS partner for many years to come and I recommend them, totally, to any company who needs to transfer their vision to technology." – Dr. George Watts, Top Line Talent
"TTS was instrumental in taking our eLearning product from concept to reality. They not only created a visually appealing product, but advised us on eLearning best practices along the way in order to create the most effective training product possible. Every staff member is friendly, responsive, and innovative. We could not have accomplished the success of the Critical Thinking University without TTS and their amazing team!" – Pearson TalentLens.
72% of companies stated that eLearning helps them to keep up-to-date with changes in their industry, which helps them to remain competitive within their niche.
Companies who use eLearning tools and strategies have the potential to boost productivity by 50%.
Don't be a sad statistic, let TTS take your content into the 21st century. See our full line of custom design and eLearning services below.
FACT: Approximately 65 percent of the population are visual learners.
FACT: The brain processes visual information 60,000 times faster than text (2012, 11). Statistics on Visual Learners.
FACT: Learning Technologies have the ability to boost agility (Towards Maturity Report, 2012).
Content design is more than just pretty pictures and colors, it is using visual media in a way that captivates, teaches and drives information to your learner. Our designers have extensive training in elements of design and page layout design, principles of color theory, principles of animations, motion graphic, compositing, video/audio recording and editing. Learn more.
Our eLearning content library houses over 400 highly interactive, industrial skills web-based modules. Developed in-house by a team of subject matter experts, instructional design technologist, and graphic artists, individual courses can be taken at anytime or combined to fulfill a curriculum need.
Technology Transfer Services has been accredited as an Authorized Provider by the International Association for Continuing Education and Training (IACET). Library content may be purchased from the shop.myodesie.com site. For a full breakdown of our available content, please click here!
FACT: 40% to 60% less employee time than the same material delivered in a traditional classroom setting.
FACT: Over 40% of Fortune 500 companies are now using some form of educational technology (Justin Ferriman, eLearning! Magazine, May 2013).
FACT: Companies are 17% more likely to become the market share leader if they have a robust eLearning program (Justin Ferriman, eLearning! Magazine, May 2013).
FACT: The Research Institute of America found that the eLearning experience increases the retention rate 25-60%! This is due to the student having control over the learning process as well as providing them with an opportunity to revisit the training as needed, which is ideal for infrequent users (e-Learning – A Strategy for Maximizing Human Capital in the Knowledge Economy).
By adding our vast array of services, you will be enhancing your staff's abilities and your company's potential. Our creative and professional team have the aptitude to achieve exactly what you need – process efficiency consultation, eye-catching branding materials, proven and successful training solutions – and more! Learn more.