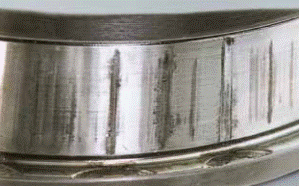 Bearing problems can result in costly downtime, equipment damage, and breakdowns. To attain reliable operation and low maintenance costs, it is essential to follow proper handling practices. This includes:
Bearing storage
Cleaning
Inspection
The life of any bearing depends on the care and maintenance it receives. This is especially true in industrial applications, where operating conditions tend to be harsh, loads are heavy, and contamination from dirt and scale is common.
Bearing Storage
Bearings with special anti-corrosion coatings are available, but most bearings are not manufactured from corrosion-resistant materials. When handling and storing bearings, care must be taken to ensure that they will not rust or corrode. Even a small amount of moisture or chemical left on an unprotected bearing by a glove or hand can result in a small etched area, which may initiate bearing fatigue.
Do not store bearings on concrete floors, where water can condense and collect on the bearing. Store bearings on a shelf, in an area where the bearings will not be subjected to high humidity or severe temperature changes that may result in condensation forming.
Cleaning
After removing a bearing from a piece of equipment, thoroughly clean it to remove all lubricant, debris, and any other contaminants. Bearings must be cleaned thoroughly to allow for proper inspection.
Smaller bearings can be cleaned in a wash tank that circulates a cleaning solution such as kerosene, mineral spirits or commercial solvents. Use the cleaning solution to remove all lubricant and contamination. After the bearing has been cleaned, it can be dried with compressed air, taking care not to let the bearing spin.
After cleaning, the bearing should be carefully inspected for damage and wear. If the bearing is not going to be returned to service immediately, it should be covered with a coating of light oil to protect against rust and corrosion.
Inspection
When evaluating whether a bearing can be re-used or not, the following points need to be considered:
Degree of bearing damage
Machine performance
Critical nature of the application
Operating conditions
 Inspection intervals

 
If the inspection reveals damage or abnormalities, then investigate the cause and correct the condition.  If your inspection uncovers any of the following damage, which would prevent the bearing from being reused, the bearing must be replaced.
Cracks or chipping in the cage, rolling elements, or raceway ring
Flaking in the rolling elements or raceway ring
Notable scoring on the rolling elements, inner or outer raceways
Notable wear on the cage
Flaws or rust on the rolling elements or either raceway surface
Notable dents on the rolling elements or raceway surfaces
Discoloration due to over-heating
Serious damage on shield or seal of grease packed bearings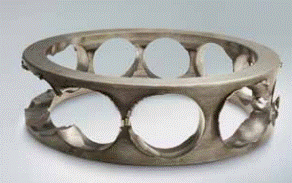 Cage Wear/Damage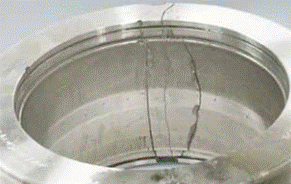 Cracking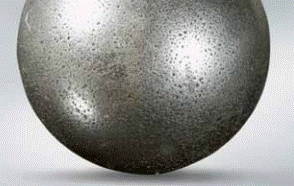 Pitting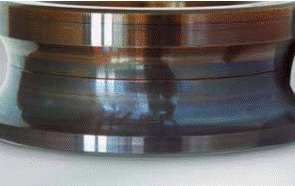 Discoloration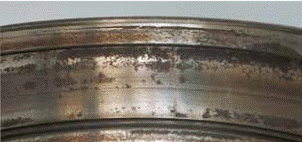 Rust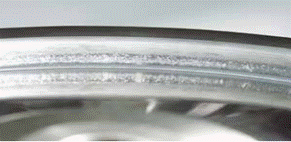 Scoring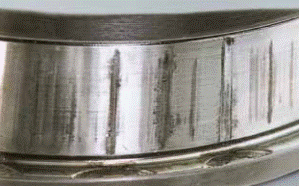 Wear
To learn more about Bearings, read the information on our Industrial Wiki and be sure to check out our Free module of the month, Types and Effects of Shaft Alignment, both available through the new odesie® site at www.myodesie.com.
References:
NSK Americas; New Bearing Doctor: http://www.nskamericas.com/cps/rde/xbcr/na_en/EN-New_Bearing_Doctor.pdf
TIMKEN; Industrial Bearing Maintenance Manual: http://www.timken.com/en-us/products/Documents/Industrial-Bearing-Maintenance-Manual.pdf