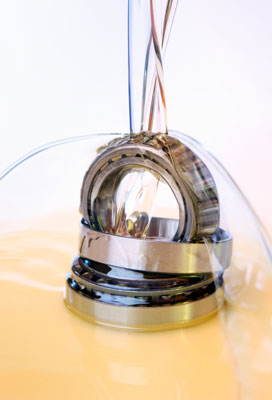 In Step 3 of Autonomous Maintenance, overall cleaning, inspection, and lubrication standards are established. Overall cleaning and inspections include bolt torquing or tightening, minor calibration, adjustments, replacement of worn parts, and visual process-related, temperature, pressure, or flow checks.
Tips for inspection:
Don't stop at problems you can see. Look for indications of hidden problems such as loose fastenings, slight vibration, abnormal temperatures, and other problems detectable by the senses.
Watch for worn pulleys and parts, and clogged filters.
Lubrication standards ensure the right amount of lubrication is applied to friction surfaces at the right time.
Using the right method means using clean lubricants, specified tools, and specified inlets or grease fittings. Even if you are adding lubricant regularly, check to see if the lubricant is reaching the surface intended.
When establishing lubrication standards, avoid creating standards that are merely theoretical or ideal. Your lubrication standards must be reliable and realistic, and based on experience or the operating manual.
Lubrication standards need to include:
Inlet locations
Method for checking
Lubrication method
Lubrication type
Lubrication tools
Schedule
Time allotted for lubrication
Person responsible
Easy to follow visual tools should be used to distinguish different types of lubricants to ensure proper lubrication practices. Marking minimum and maximum levels on oil gauges and color coding fittings are other visual techniques.
Distinguish lubricants by color coding their storage containers
Use the same colors at machine inlets
Color code lubrication tools
Color coding mistake-proofs the process, giving operators an easy way to check whether they are using the correct lubricant for that lubrication inlet.
Don't forget to stop by odesie® and take our Free Module of the Month, Preventive Maintenance! To learn more about how Technology Transfer Services can put your organization on a path to world class maintenance, call us today at (813) 908-1100.